How to connect a USB flash drive to the Android tablet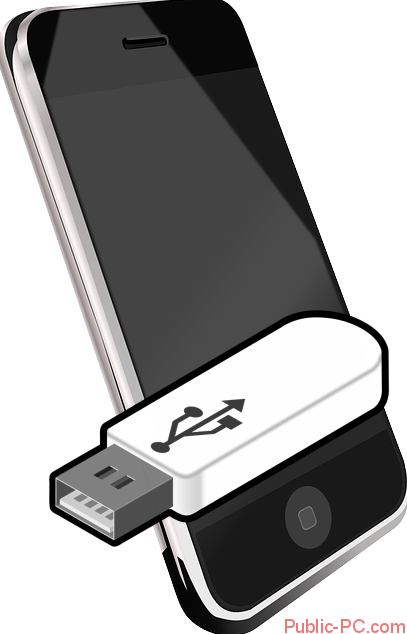 The presence of dimensional USB-connectors is impossible for several reasons in miniature cases of tablets and smartphones. However, this does not mean that the flash drive can not be connected to it.
On each tablet and smartphone there is a miniature USB-connector - micro-USB. You won't be able to insert a full-fledged USB flash drive into it, as the dimensions do not match, but you can insert an OTG cable, which will be a kind of adapter.
Find out if your device supports work with this type of cable. Usually, on Android version 3.1 and above, there is always support, so you can not worry about it.
If you are not sure that OTG is 100% supported, then install a special application on your tablet that allows you to test - USB OTG Check. In the application interface, click on the "Check Device OS on USB OTG" button.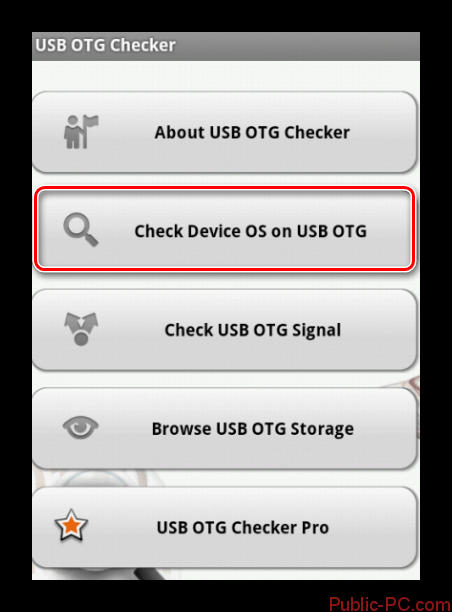 The test starts, which ends a few seconds later. If the program issued such a message with a green background (see screenshot), then everything is fine and there is support.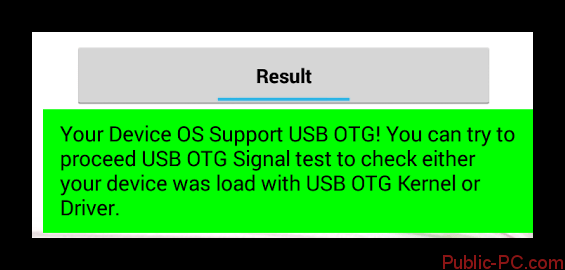 If during the test it turned out that there is no support, then there will be such a message.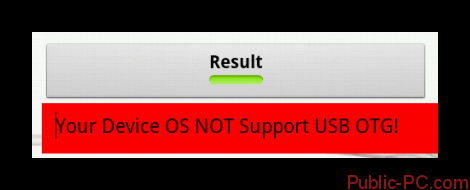 Now that you know for sure whether your device supports an OTG cable, you can begin to consider possible connection methods:
Use the OTG cable;
Use another kind of explorer;
Using special flash drives for phones and tablets.
Also with the help of an OTG cable or other adapter, you can connect some other device to the tablet, for example, a mouse or keyboard. Only in this case it will be important that the external device is connected via a USB interface.
See also: How to connect a keyboard to the tablet
Option 1: With OTG
The easiest way. An OTG cable can be included with some smartphones and tablets included. At one end of the cable is a plug for micro-USB, which is inserted into the tablet, and at the other USB interface, where the USB flash drive is inserted.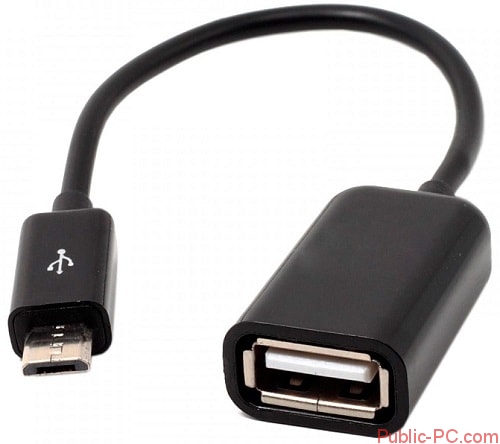 After you connect everything, a special indicator light should light up on the flash drive, if one is provided for in the design. Also on your device, there will also be a message stating that third-party media is connected to it.
You can view the contents of the flash drive by clicking on the following path:
/ sdcard / usbStorage / sda1
The transition can be done in any file manager that is on the device. Even the standard version will do.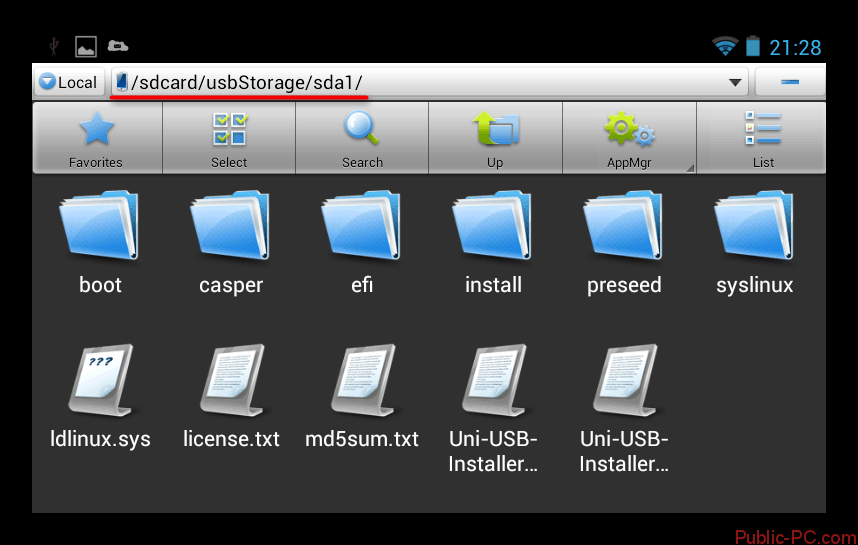 Option 2: Use other adapters
You can also find a more compact alternative to OTG cables on the market, which look like a small device that has a USB input at one end and a contact for connecting to the micro USB port on a smartphone at the other end.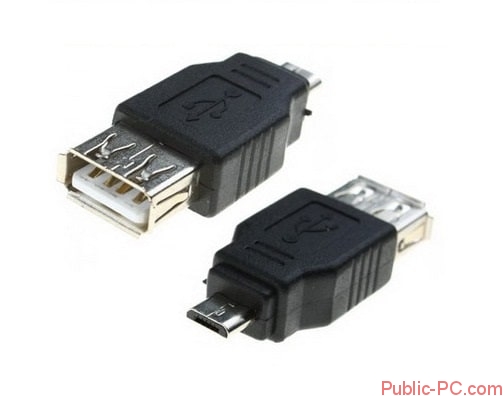 Connecting a flash drive occurs by analogy with the previous version.
Option 3: Two-port flash drives
You can also find flash drives that have two pins - one USB and the other micro USB. Such drives are very practical, as they allow you to connect to computers and mobile devices.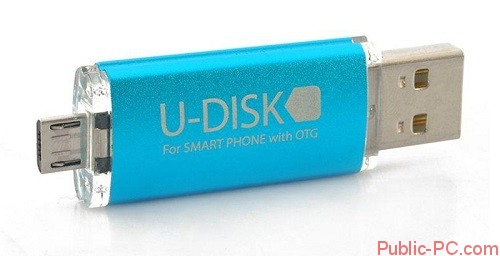 The only problem is that such flash drives are not the most common and are not always easy to find. They can also be more expensive than conventional models. Connection also has no distinctive features.
Option 4: Flash drives for iOS devices
Owners of the iPhone and iPad may face difficulty, since they do not have micro-USB connectors, and there is its analogue - Lighting. In this case, the usual OTG adapters and flash drives become useless. Fortunately, there are flash drives, where the Lighting connector is provided as an additional, not micro-USB.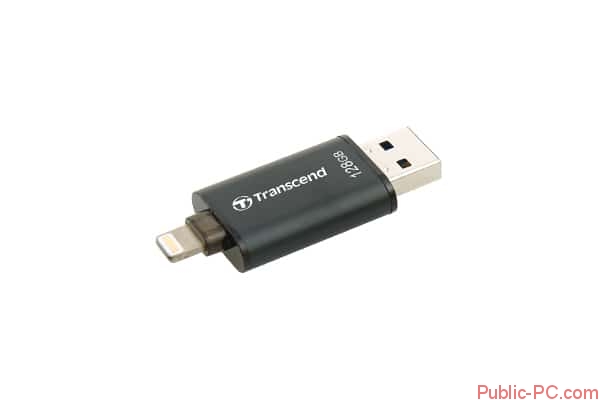 This option is the only possible way to connect a USB flash drive to an Apple smartphone or tablet.
Possible connection problems
There is a possibility that the device may not detect your drive, in which case you need to perform one of the actions below:
Make sure your flash drive has a FAT32 file system. The fact is that mobile devices can only work with this file system. If the carrier has a different system, then it will have to be formatted in FAT32;
It is possible that the tablet is not able to provide the USB flash drive with the right amount of energy. In this case, you can charge the first to 100%. If this did not help, then you will have to connect other data carriers.
Also, some tablets are not able to initialize the flash drive. In this case, you can try to install a special software - StickMount. You can find it in the Play Market. However, it should be noted that the program requires correct root access for it to work. Instructions for working with the application as follows:
After installing the application, try to reconnect the USB flash drive. A message should appear from the application. Here you need to put a tick in front of "Use by default for this USB-device" and click "Ok" .

Another window will open where you need to click on the "Mount" . After that, the flash drive should normally earn. Go to its contents in the following way: / sdcard / usbStorage / sda1
It should be remembered that the ability to connect third-party devices primarily depends on the smartphone itself, since if it does not support OTG, then you can't force it to read information from a regular USB flash drive.